I've gotten enough work done that I can kick back over the holidays a bit. I'm going to see this play, In Fields Where They Lay, on Christmas Eve. It's about the WWI Christmas Eve truce and I'm going to see it exactly 100 years to the night after it happened. A daughter of one of the soldiers is going to be there. Oh, I just read there will be carols and a reception afterwards. Nice. If you're in NYC you might want to consider going to this.
More holiday shots around town. This is 5th Avenue again, taken from the steps of St. Patrick's Cathedral, looking over at Rockefeller Center. That stream of people are (is?) heading towards the famous Christmas tree and skating rink.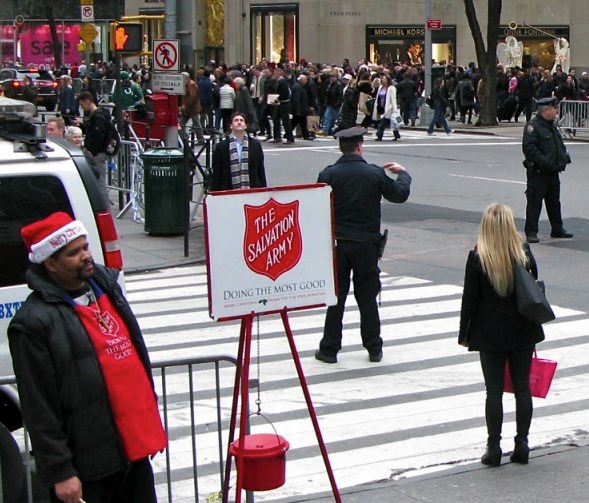 Something I will not be doing this year! Shopping! My family is doing a grab bag so I have only one gift to buy, thank God. Okay, two. I have to get something for my father and step-mother who will be in Vermont this year, but I will be buying that online.
A Christmas tree stand. I took this for the depressing look of it, but I love walking past these stands and getting a nice whiff of pine. So thank you sad little Christmas tree stand.