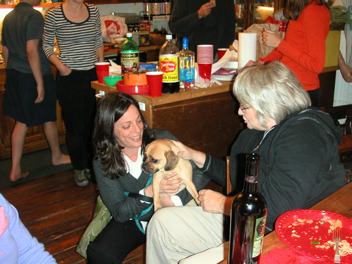 My friends Liz and Jim had a party. I am posting pictures to prove that I have friends. This first shot features Cricket and the famous lost but happily found Bean. Seriously, the cutest dog in the world, right? That's Sue to the right petting Bean.
The second shot is of me and Lianne, who is a great singer. Trust me, go to that link and listen. You will thank me. Plus, it features animations by our friend Marianne Petit. Lianne doesn't look too thrilled, but I swear we had a good time chatting. I am beyond belief tired, which is why I am posed that way. But I had a great time. And Howard brought me very bizarre, fractal-ly looking broccoli (which tasted much better than regular broccoli) and bok choy. Oh, and that's Ruby in the top photograph, copying my outfit.
Update! More pictures from Charles. After me and Lianne, that's Max holding Franny, Howard and Cricket, then Margaret and Lianne, then Ruby, (the copycat) Ellen and me, and the last one is Liz and Jim.
Missing Photo! A photograph was here! Don't know where it went!