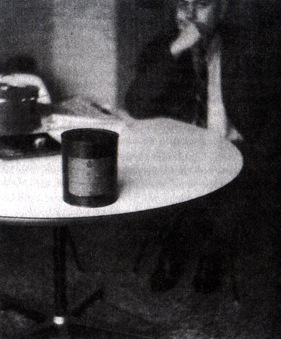 Years ago I posted a ghost story on my blog for my book Unbelievable: Investigations into Ghosts, Poltergeists, Telepathy, and Other Unseen Phenomena from the Duke Parapsychology Laboratory. A ghost was said to haunt a building on Bank Street in the West Village, a few blocks from where I live. The picture you see here is of a tin of ashes that I scanned from one of Hans Holzer's books (a once famous ghost hunter). The ashes fell from the ceiling in the Bank Street Building and belonged to Elizabeth Bullock, who everyone believed was the ghost who haunted the building.
Because I live when I do, and have things like the internet, I was able to find out more about Elizabeth Bullock and everyone else connected with this story than they were able to when the story broke in the 1960's. I could probably find out more now, come to think of it. I love this kind of thing. I could research stories like this all day long, every day.
It's ultimately a sad story, as ghost stories so frequently are. If you start looking you'll find that beneath the scariness is almost always love and loss. You can read what I discovered here.