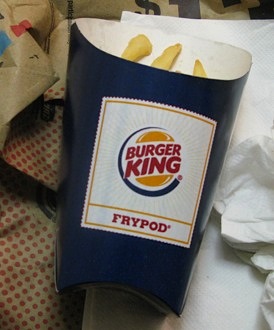 I took this down in Durham. Did you know the things that fries from Burger King come in are called "Frypods?"  Good lord.
I'm taking Buddy back to the vet this morning to see if he's gained weight, but I'm afraid he hasn't. Maybe he looks the tiniest bit heavier to me, but I'm not convinced, really. Oh please let him be heavier. Finney is getting gigantic, however. I've put more food out in the hopes of fattening up Buddy and it's working on Finney, who doesn't need it.
Plan for the day:
– vet
– exercise
– meditate
– interview someone for an article I'm working on
– practice the choir-ass-kicking Missa Solemnis.