I was walking home yesterday and noticed this dilapidated but clearly once beautiful small mansion at 2 West 16th Street. A little googling and I learned it used to be the home of Henry George Stebbins, a former congressman, briefly, during the Civil War, (I wouldn't have wanted to be a member of Congress during the Civil War either) a banker/broker, and an intermittent president of the New York Stock Exchange. As a matter of fact, Stebbins died in that house on Friday, December 9, 1881, just before midnight.
Here's a beautiful painting of him by Henry Inman, dated 1838, when Stebbins was 27. He looks like such a nice young man. The painting was donated to the Metropolitan Museum of Art by Josephine S. Stebbins in 2000 (clearly a descendant). Thank you, Josephine. It always amazes me when people donate such things of beauty. It's such a generous thing to do. I don't think I have that kind of generosity in me.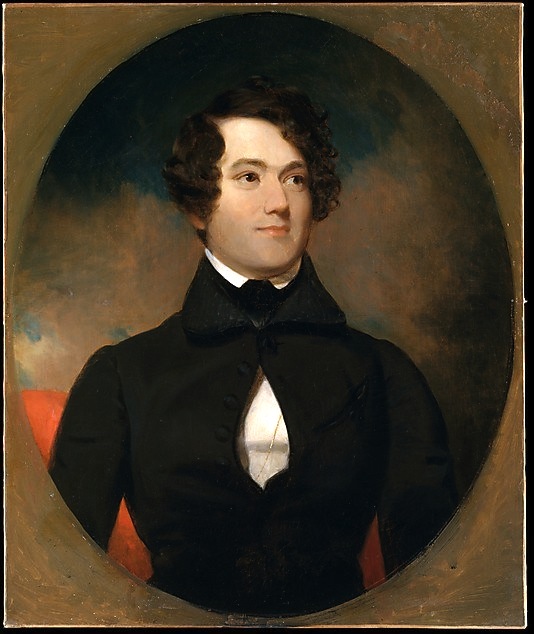 Stebbins was involved with lots of interesting things (he was the president of the Central Park Commission and a trustee of the American Museum of Natural History) but of course the thing that got my attention was the fact that he was a music lover, and loved singers. He shows up repeatedly in the memoirs of singer Clara Louise Kellogg.
"In 1857, my father failed … and we went to New York to live. Almost directly afterward occurred one of the most important events of my career. Although I was not being trained for a singer, but as a musician in general, I could no more help singing than I could held breathing, or sleeping, or eating; and, one day, Colonel Henry G. Stebbins, a well-known musical amateur, one of the directors of the Academy of Music, was calling on my father and heard me singing to myself in an adjoining room. Then and there he asked to be allowed to have my voice cultivated; and so, when I was fourteen, I began to study singing. The succeeding four years were the hardest worked years of my life."
This undated picture of him appears in her memoirs. Unfortunately, things are not looking good for his former home. This scathing Yelp review by a former renter was just written last month.