Today is my birthday, but I've decided to do one fun thing every day for a week. I know how to make a good thing last! (Sometimes.) Yesterday I went to the Met to see the show Beyond Fashion. I have no pictures because they don't let you take pictures at special exhibitions. But I learned that all the draping and architectural things being done today are NOT NEW. Charles James already did it all.
After that show I wandered around. This is what kills me. When I was a kid the only thing I cared about at this museum were the mummies. Then there was a big long stretch where the only thing I cared about were the paintings. That lasted decades, and I'd go through phases about which periods or movements I preferred, or painter.
Now it's I think what are called decorative arts? Furniture, vases and dishes and watches, etc. I'm absolutely captivated by it all. I think it must be from all these years of watching Antiques Roadshow. I took a few pictures. I mean Jesus Christ, will you look at this silver candleholder??
Before I forget, I kept looking at the names of the people who donated these objects and marveling at them. If this candleholder were mine I would never ever give it up.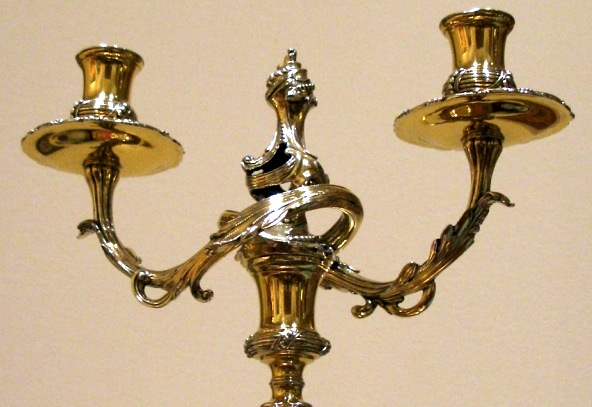 Look at these feet!! And this is only one beautiful part of this beautiful table.
Unfortunately, most of my pictures are bad, and don't capture all the shades of color and other details. But even in a bad picture you can see how amazing this little bowl is.
And this plate. Actually, my sister-in-law Robin makes beautiful plates, I have two! I just realized I never hear her talk about it. Maybe she's stopped? I must ask.
Breathtaking. I was really drawn to silver yesterday. There's also a very fine pattern drawn (etched? I don't know the proper word) into the bottom half.
Karen, if you're reading this I took this for Peter. The watches were so beautiful it was painful. I took a picture of this one because this is a watch! I can't get over it. This is a watch. The one below is for Peter as well.
I'm sorry this one didn't come out better. It was sitting below the butterfly watch and unfortunately I shot them both at the same time. I should have know better. But, a bug watch!!