After all my worrying, the Tardis did appear! And once again I failed to get a decent shot of it. It's partly my camera's fault, I swear. I met someone last night who knows the Canon G series of cameras (he has each of them including the latest) and he agreed mine just doesn't take good night shots. "You can get the new one for $400!" he said. I tried not to sob.
The Dalek also returned, ready to exterminate, thank God. I mean, OH NO!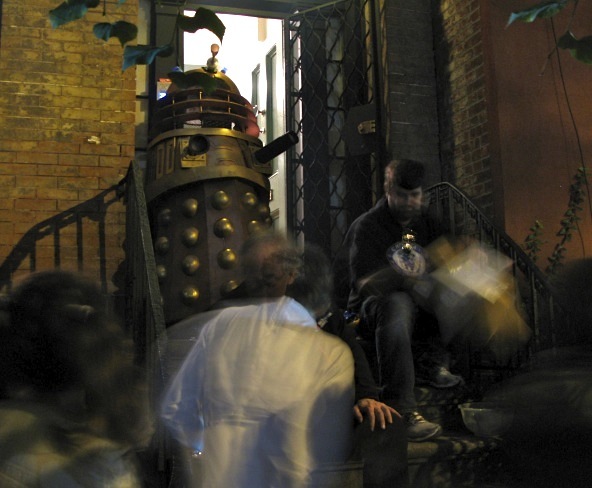 Giving out candy at a gallery on West 4th Street. Most of the activity was centered around stoops, but a few businesses were also giving out treats.
Tree head man. Crazy tree head man (I just saw an old Adam Sandler SNL Halloween bit).
This was in front of the building on 11th and 4th Streets that had the great decorations in the post just before this one.
Now this is commitment to Halloween and your costume. (It was also cold last night!) This picture is disturbing, but she was actually totally awesome. But too much for the children. While I was taking her picture every child who passed by refused to go up and take candy from her. I couldn't blame them.