A post about Holocaust Remembrance Day made me remember Lilli Guggenheim. While researching my book about the former Duke Parapsychology Laboratory I came across a couple of letters from a German scientist to J. B. Rhine, the head of the lab. It was 1938, and I had a bad feeling which sadly, was confirmed.
"At some point every day, Rhine turned his attention to his enormous correspondence, which included hints of the growing problems in Europe. A couple of weeks after the Columbus symposium, a letter arrived from a 26-year-old psychologist in Berlin named Lilli Guggenheim. She'd read Rhine's second book New Frontiers of the Mind, and she had an idea. She suggested a way of using the Rorschach Ink Blot test to find good subjects for telepathy. However, as a Jew in Germany, she explained, she was excluded from scientific laboratories, so she couldn't do the tests herself. But if he gave it a try, "I am looking forward to hear some news about the results." Later, she wrote again and asked about a job at Duke. She was anxious to get out of Germany. Rhine wrote Don Adams, a professor from Duke's psychology department, to see if there was anything they could do for her, but they couldn't come up with a position. Lilli Guggenheim would be deported from Berlin in November of 1942 and sent to Auschwitz, where she died."
I wasn't able to find out much about her. She did publish a couple of articles in the 1930's, but she was at the beginning of her career at a very dark time.
Lili's first letter to Rhine.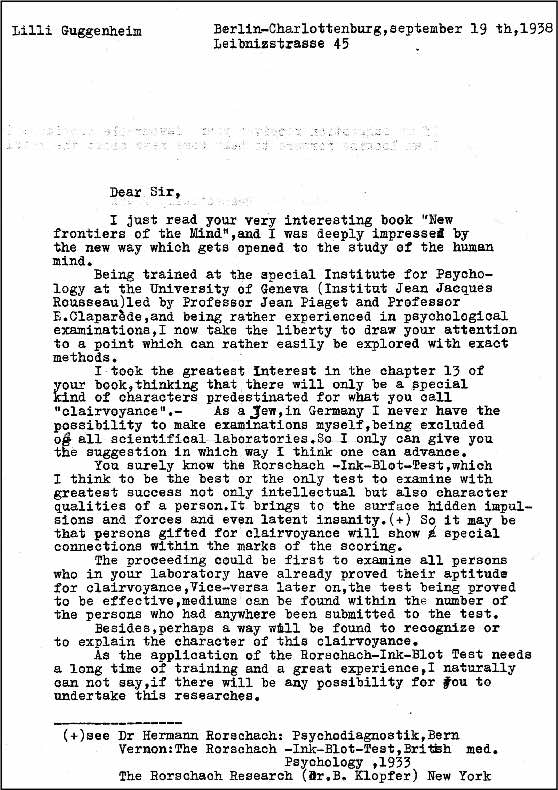 Rhine's later response about a job.