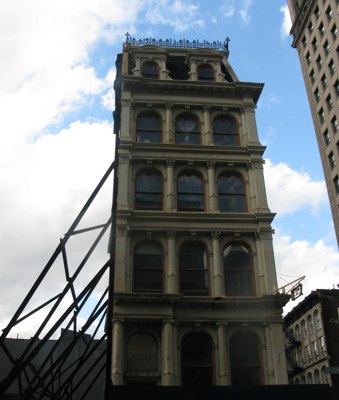 You know, I don't really have a lot of demands, I don't have children, but I'm starting to accept that no one is immune, holidays are just plain stressful. Period.  
The Holidays to Us: We're here, we're going to make you jumpy and worried and occasionally depressed, get used to it. Oh, and mwah-ha-ha.
I'm home working, and getting things done. I sent a couple of chapters from my book to someone I want to interview, and he liked them! I should be in a great mood.  And I am, but my mood can and does change, like that, with very little prompting.
I meditated, went to the gym, ate healthy food.  Now I'm listening to holiday music, which I love.    Vivaldi's Gloria is playing right now, before that the Snoopy Christmas song—what better holiday song is there than that?Palestrina is on now!!
So are those struts (is that the right word) the only thing holding that building up?  That can't be, right? Maybe the bricks are unstable or something.  Where was that? Broadway maybe, downtown definitely.  Pretty building.  I want those floor to ceiling arched windows.