Their rally wasn't held on the block of the proposed community center, it was a block away, and closer to the WTC site. I went with someone from the Census. When she asked attendants where the mosque should be they were silent.
Said by one of the speakers at the rally: The sections of the Constitution about religion refer to Judeo-Christion religions only.
For the record, from George Washington, "The bosom of America is open to receive not only the Opulent and respectable Stranger, but the oppressed and persecuted of all Nations and Religions; whom we shall welcome to a participation of all our rights and privileges, if by decency and propriety of conduct they appear to merit the enjoyment." (I know the first argument would be that what happened on 9/11 was hardly decent, but we don't persecute an entire religion based on the acts of an insane few.)
From Benjamin Franklin, "Even if the Mufti of Constantinople were to send a missionary to preach Mohammedanism to us, he would find a pulpit at his service." Thomas Jefferson owned and studied the Koran. I could go on.
Heard at the rally: "They have a secret agenda."
They chanted, "liberty!" without a hint of irony.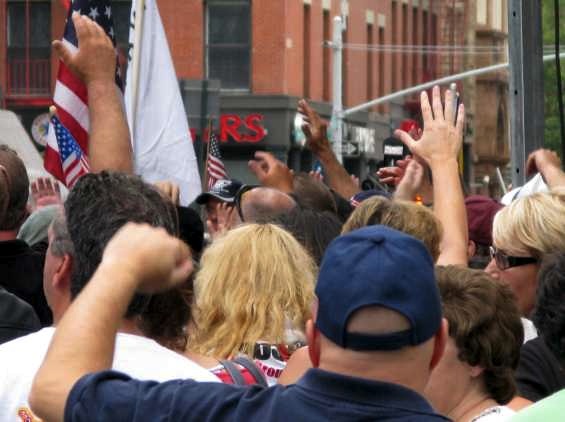 To the man below, what if people said, "Everything we need to know about Christianity we learned from the KKK, Oklahoma City, the Crusades, our history with American Indians …" (I could go on. For a long time.)
A moslem man who lost someone on 9/11 asked: Why can't I visit the site, like you, and then walk a few blocks away and pray?
These are our neighbors people!!