Yesterday I watched the 1938 Reginald Owen version of A Christmas Carol. I'd forgotten that in this version the actress who plays Bess, the fiance of Scrooge's nephew, was Lynne Carver. Lynne Carver lived in my building! That's her in the picture below. Unfortunately, she died on August 12, 1955, a month before her 39th birthday. She's so young and beautiful and full of promise in this still from the movie. She was only 22 at the time. The 51 year old star of the film would out-live her by 17 years. I don't know why her death moves me, but I guess the fact that every day I climb the same steps that decades ago she would have also daily climbed is all it takes to illicit a measure of compassion. More below …
I stopped watching the movie and tried to find out which apartment she lived in. Many of my friends have told me that my apartment is haunted by a female ghost, maybe it's Lynne Carver. But I couldn't find out which apartment she lived in. There are also conflicting reports about her death. Most say that she died in Memorial Hospital (now Memorial Sloan–Kettering Cancer Center) following a long illness, (cancer) but a few say she committed suicide.
Oh, a different actress allegedly attempted suicide. She had the same name, but she spelled her first name slightly differently: Lynn Carver. Researching her now … oh my. Her life started out promising enough. The picture below is from the Library of Congress. It was taken by William P. Gottlieb in September, 1947. The caption reads:
"The Deryck Sampson trio is pictured above at the Famous Door with Lynn Carver, who just finished some RKO shorts and claims to be Hollywood-bound. Sampson is at the piano, Justin Arndt on bass and Clair Dorward on guitar."
She's 23 in this picture and The Famous Door was a big deal jazz nightclub on West 52nd Street. She's younger than the other Lynne Carver, who was born in 1916. This Lynn Carver was born in 1923. But singing in this hot nightclub, and on her way to Hollywood—it must have seemed like all her dreams were coming true. (More below.)
Then, only two years later, on August 17, 1949, she's on the front page of a Hollywood newspaper, denying suicide from her hospital bed.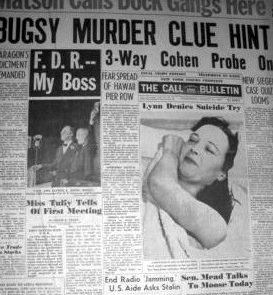 Her gas-filled apartment was an accident, she says, she was drunk. "Officers said sleeping tablets and two incoherent notes were found on a coffee table in the living room." Also, according to the article she'd married an actor named John Burt a year before.
The very next year, on November 2, 1950, she was in the hospital again from an overdose. "Actress Takes Too [sic] Nerve Pills Sick from an overdose of medicine. Actress Lynn Carver, 25, of 10968 Whipple St., was treated at Van Nuys Receiving Hospital. Police were told by a housekeeper that the actress started taking the pills yesterday morning. They had been prescribed by a doctor to quiet her nerves. When the young woman became ill the housekeeper called an ambulance. Following treatment the actress was released to her home."
She was in the news again the following year, 1951, and this time it was because she'd been arrested for writing bad checks, and was now out on bail.
She tried to take her life again in 1954! From an October 31 article:
"Former Film Player Takes Pill Overdose Former film actress Lynn Carver, 29, of 5642 Laurel Canyon Blvd. was taken to Los Angeles County General Hospital after she allegedly tried to commit suicide by taking an overdose of sleeping pills, police reported …
"Police said that the woman had attempted to commit suicide several other times since 1950. Miss Carver told police she had married Doyle D. Bryant in Hollywood on Sept. 14 … Early Friday she called Dean Davis, 12859 Sherman Way, Hollywood, who she said had been the best man at the wedding, and notified him of what she had done. Davis called detectives who went to her apartment. Miss Carver's two children by a previous marriage were taken to the home of friends … Police said they were unable to locate Bryant. Police said the victim is no relation to Actress Lynne Carver. Detectives said that when they arrived at the former bit player's apartment, she was staggering around in a daze while dressed in her wedding gown."
That last detail is quite sad. The picture on the right is not from the 1954 article, it's from 1957. She was in the papers this time because she was a witness to a possible kidnapping. So she's still alive as of 1957. She's only 34 in this picture, but she looks older, which is not unusual for the time. She's again described as a "bit-player" in the movies and also as a western band leader. Music is still in her life! That's one bright spot. I haven't found a date of death yet. I also wonder what became of her two children. Neither article says which husband was the father, but I'm guessing it must be the first one mentioned, John Burt.
Update #1: Her marriage to John Burt lasted two weeks. She had it annulled on October 13, 1948, explaining to the judge that she'd been drinking that night and had no memory of the ceremony. "I didn't realize I was married until he jerked me out of bed, saying 'I'm your husband—you are my wife,' she testified." Okay, so Burt may not be the father of her children, except they're from a previous marriage. How many times did she get married?
Update #2: On Facebook, Mark Taranto posted that he checked Ancestry.com (I'm no longer a member and can only access it via the NYPL) and found a 2007 death record for Doyle Bryant. Even more exciting, he found a White Pages listing that showed Bryant living in Santa Clarita CA in 2002 with his wife, Lynn. (Her name on their marriage record was Marjorie L. Carver, by the way.)
So she was still alive as of 2002. Clearly she'd gotten at least some of the help she needed. Maybe it was just getting sober. I'm an alcoholic so my youth wasn't pretty either. I hope she's still singing, or was singing until the end if she is now deceased.
Update #3: I found a record that says Lynn, whose name really was Marjorie Lynn, was divorced from Doyle on August 29, 1978. So that White Pages listing was incorrect, it probably just hadn't been updated in a while.
Update #4: Mark Taranto found her grave! She died in 2004. It says she was born in 1925, but I remain a little suspicious about that. I think she might have lied about her age. Also, the inscription reads: Beloved Wife, Mother and Grandmother. If she and Doyle were divorced, why would it say beloved wife? Could they have remarried? Or, did she marry again and not bother to change her name?
Update #5: I found Lynn Carver's obituary.
LYNN CARVER BRYANT June 1, 1925 – August 16, 2004 Age 79, and a resident of Santa Clarita, California. Lynn enjoyed work as an actress, cooking, film work, and was a band leader. Survived by Doyle Bryant, Michell R. Carver, and Shannon McCullen; and sister, Dorothy Thompson. Services will be held at Eternal Valley Chapel of the Oaks, Thursday, August 19, 2004, 10:00 a.m.
ETERNAL VALLEY MORTUARY Directors 661-259-0800
Published in Los Angeles Daily News on Aug. 18, 2004
And then I found an obituary for one of her children. It also solves at least some of the mystery about the father of her children. Carver was her married name. She had a husband named Jack Carver, and you will learn his fate in this obituary.
JACK CARVER Passed away June 29, 2001 in Kauia, Hawaii. Born January 21, 1945. The son of Lynn Carver Bryant and Jack Carver, a Navy pilot who died during WWII. Prior to moving to Hawaii, Jack was a long time resident of the San Fernando Valley. Jack was cremated and his ashes were spread in the waters of Hanali Bay, Hawaii. He is survived by two daughters, Michelle Miller and Gina Capperonne; step-daughter, Tammy Baines; and his mother and step-father, Lynn and Doyle Bryant, of Canyon Country. A poem in memory by a loving friend …
POEM FOR JACK: There were seven misfits in a motorized canoe, One was ash prepared to float in the ocean blue. The Hanali sunset cast its sweetness on the bay, The cloud covered mountains seemed a mysterious haven far away, With a tender breeze blowing, his blood child removed the lid, She scooped a handful of her father's ashes and tossed them off the rigg. The leis we wore came off our necks and one by one they flew, And ash and flowers drifted round the bay a sacred stew. With love, Blu Dux Kalaheo, Kauai, Hawaii.
Published in Los Angeles Daily News on July 24, 2001